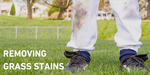 How to Remove Grass Stains from Clothes
Spring is in the air which means warmer weather, longer days and… grass stains. No matter how careful you are, sooner or later you're going to wind up with a pesky grass stain on your clothes. But don't despair! Getting rid of grass stains is actually fairly easy. Just follow these simple steps and that stain will be gone in no time.

Top tip: It's important to act fast. The longer a grass stain sets, the harder it will be to remove. So as soon as you notice the stain, it's time to get to work.
 
1. Pre-treat the stain with vinegar or laundry detergent. Apply a small amount of either vinegar or laundry detergent to the grass stain and rub it in gently with your fingers. Let it sit for a few minutes to give the solution time to work its magic.
 
2. Rinse the garment in cold water. Hold the stained area under cold running water and rub it gently between your fingers. You should see the stain start to lighten.
 
3. Wash the garment in the washing machine on the hottest setting recommended for the fabric type. Be sure to add an extra scoop of laundry detergent (or an extra Laundrythings pod - if you want to keep things a bit more eco).
 
4. Inspect the garment after it comes out of the wash and repeat steps 2-4 as necessary until the stain is completely gone.
 
5. Dry the garment as usual.

And there you have it! Grass be gone.