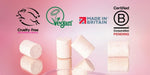 Certifications: Why We Have Them, Why They Matter
Here at Homethings, we pride ourselves on being sustainable, ethical and transparent. In fact, one of our values is to 'Talk Freely,' meaning we're forthcoming about who we are and what we do as a company. As part of that, we believe that if you're going to make a claim, you've got to be able to substantiate it. 
For us - third party accreditations are a big part of that. Instead of 'self certifying' that we're cruelty free or vegan or eco friendly - we believe in working with the best in the biz to verify that we actually are what we say we are. 
So today, we thought we'd break down each of the certifications we've achieved to date and explain why we think they're important. Grab a herbal tea and a biscuit; welcome to Homethings 101: Our Guide To Certifications. 🥸
Cruelty Free International
"Exactly what does it mean to be cruelty free?," we hear some of you wondering. Being a cruelty free brand, you stand against animal testing of cosmetics - or in our case, household cleaning products - on animals. This refers to the entirety of the animal kingdom; inclusive of all vertebrates (mammals, reptiles, amphibians, etc.) and multicellular invertebrates (insects, mollusks etc).
Homethings is cruelty free to the core. We do not test on animals during product development or production, or allow any third parties to do so with our products and we also don't sell our Things in places that require testing on animals. In our opinion, it's pretty difficult to make that statement without going through the accreditation process and standards set out by Cruelty Free International (look out for their logo on certified cruelty free products 🐇). They are globally recognised as the gold standard for brands wanting to ensure that their supply chain is free of animal testing.
Isn't animal testing a thing of the past? Sadly, no. Cruelty Free International estimated that at least 192.1 million animals were used for scientific reasons globally in 2015 and the UK is consistently ranked as one of the worst offenders. Infact, in 2018, the UK conducted the highest number of animal experiments in Europe - a whopping 2.4 million!
And despite increased public demand for reductions in animal research, there has been very little - if any - change at all. In 2020, and according to the latest Government figures, 2.9 million experiments on animals were conducted in the UK. We think that's bonkers, and are proud that this is a statistic that we're not a part of. 🌍
The Vegan Society
Continuing on the theme of animals, we are also proud to be certified by The Vegan Society. We use their definition of 'vegan' to mean that none of our Things and their packaging, or the processes, manufacturing and development it takes to make them, has or ever have involved the use of any animal product or testing. This also includes animal by-products and derivatives, including ingredients often found in household products such as tallow, lanolin, collagen, albumen, carmine, gelatin, urea and honey (sorry, Winnie!). 🍯
Since launching in 2020, and as with being cruelty free, we have never and will never change our stance on this. As an eco household cleaning brand, we believe that there's just no reason for animal by-products or cruelty to feature in our Things. To our furry friends in the Hundred Acre Wood; you can rest easy. We've got your back (but not your honey). 🌲
Made In Britain
The Ellen MacArthur Foundation states that if we're going to reach net zero by 2050, 45% of the carbon savings will have to come from transitioning to a circular economy. At Homethings, we aim to pioneer the circular economy within home care through our elimination of single-use plastics and commitment to carbon neutrality, aligning our entire production and delivery processes to the UN's Sustainable Development Goals - specifically focusing on: responsible consumption and production.
At the core of this mission is massively reducing the carbon footprint of the Things we all use at home. Did you know that most cleaning sprays are up to 95% water packaged and shipped around the world in single-use plastic? We ask this question a lot, but with good reason. It's utterly bonkers. 🤯 But that's where our certification with Made In Britain comes in.
As a business, our first choice when sourcing manufacturers for our products and packaging will always be the UK. By manufacturing as much of our Things and their packaging here in the UK as possible, we significantly lower our carbon footprint and we help support fellow small businesses and jobs here in the UK too. It's a win-win scenario, wouldn't you agree? If we can't source what we need in the UK - we'll look as close to home as possible and we'll be publishing more details on this soon. 
B Corp (Pending)
We can't lie Refillas (that's the point of this entire blog post), this certification that we're currently working towards is incredibly exciting 💥
Certified B Corporations, or B Corps, are redefining what it means to be a business within our 21st century world. The B Corporation Certification is the only accreditation that measures a company's entire social and environmental performance. Balancing purpose with profit, B Corps are legally obliged to consider their impact on their workers, customers, suppliers, community, and the environment.
Businesses seeking this prestigious certification are analysed from end-to-end, from their supply chain to employee benefits and charitable giving, in order to prove they meet the highest level of standards. 
To quote Rose Marcario, CEO of Patagonia Works, "The B Corp movement is one of the most important of our lifetime, built on the simple fact that business impacts and serves more than just shareholders -- it has an equal responsibility to the community and to the planet."
It's a responsibility that we don't take lightly, and we'll be publishing an annual impact report in future to help keep us on track.
In the meantime, why not check out our wide array of household cleaning Things if you haven't done so already? We even have a referral scheme so you can help your mates rethink what's under their sink, while you both save a bit of dosh. Around here, we call that a bargain 😎