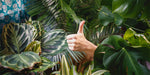 Sustainable Household Swaps that Make Sense
Sustainability is great, but what's really great is when making that sustainable swap is easy and at no extra cost or hassle to you. We've got your household cleaning sprays covered with our refillable glass bottles and non-toxic cleaning tabs, delivered directly to your door (fun) but what about those other things? 
Check out our quick-list of sustainable swaps that have the Homethings seal of approval:
Swap your Sponge
Did you know that your cleaning sponge is probably made from plastic? Which means that hundreds (if not thousands, we don't have the patience to count) of microplastics are washed down your sink and into the ocean. Seeps products are designed to provide an eco-friendly alternative that doesn't scrimp on performance. After sourcing only renewable materials they've designed these products with the planet and their customers in mind. 100% free from plastic and 100% compostable, doing the dishes never felt so good. Currently available to pre-order, get yourself on their waiting list to be the first to get your hands on them. 
Seep
Cup Half Full 
With everything that's been going on in the world recently, leaving the house can feel like a mammoth task whilst trying to remember the multitude of things you need to take with you. But you know what they say: fail to prepare, prepare to contribute to plastic waste (no one says that, but we need to make the point somehow). Advertised as 'the best reusable cup made from recycled single-use cups', this travel cup from Circular and Co might just be your new tote bag essential.
Circular And Co.
On Your Head 
We're tackling underneath our kitchen sinks, but there are other problem points in our plastic filled homes too – an obvious one being inside our bathrooms and showers. Switching to a more sustainable hair care brand might be your next move. Whether you're ready for the super-eco option and opt for a shampoo bar or find refillable products much more appealing, we're a huge fan of organic brand OWay, who believe in 0% Overpackaging and have refill stations across a number of salons in the UK. 
Oway
Packed Lunch Club
Maybe you're going back into the office (or maybe you just want to shake things up in your own home, no judgement here) which means that ye olde lunchtime conundrum is back. Convenience sells, which is why Pret is basically on every street corner, but the waste that these 'grab and go' lunches create is far from delicious – which is why we love these lunch bags from Tabitha Eve. Made from washable vegan leather, these might just be the nudge you need to up your own sandwich game. 
Tabitha Eve 
No More Toilet Trouble
Toilet paper – not always the first thing you think of when trying to become more sustainable, but certainly an easy switch thanks to paper legends Who Gives A Crap. With their product range encompassing both 100% recycled toilet paper and 100% forest friendly bamboo paper, there's plenty to choose from – plus, if that wasn't enough, Who Gives A Crap donates 50% of their profits to help build toilets for those in need. What's more (can you believe there's more?) they deliver directly to your door; so no more lugging back toilet roll on the bus. Thumbs up from us. 
Who Gives A Crap

There you have it: some great brands championing a more sustainable lifestyle, and that makes it easy to do so. Know one better? Let us know 👇



Photo by Katya Austin on Unsplash