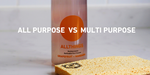 The difference between multi-purpose and all-purpose cleaner
What is all purpose cleaner good for? What surfaces can I use multi purpose cleaner on? Should I buy multi purpose or all purpose cleaner?

You walk into a supermarket to be greeted by a wall of cleaning sprays, with one for just about every surface in your home. Most are pretty self explanatory (toilet cleaner, kitchen cleaner, carpet cleaner), but there may be two that sound puzzlingly similar. 
All-purpose cleaner and multipurpose cleaner may sound interchangeable, but there are a couple of differences that set them apart.

What is a multi-purpose cleaner?
Multi-purpose cleaners can be used on a number of different surfaces, made of a variety of different materials. Think of your dusty cabinets, kitchen countertops, work-from-home desks, coffee tables. Each multi purpose cleaner will have been tested of a slightly different range of materials, so it's best to check the website for details. For example, our Allthings have the green light to work on quartz, stainless steel, tiles, laminates, stone, marble, granite, and sealed wood.
What is an all-purpose cleaner?
All purpose cleaners tend to come in a big bottle and can be used to clean literally everything. Like… literally… everything: countertops, carpets, sinks, bathrooms, floors, equipment, and even vehicles.
Should I buy a multi-purpose cleaner or an all-purpose cleaner?
It completely depends on what you're looking to clean. Want one product to do it all, then an all-purpose cleaner may be right for you. Want a product that's more carefully designed for the surface that needs cleaning, then perhaps an multi-purpose cleaner, with some other more surface-specific cleaners to back it up could be the way to go.

Like the sound of option 2, but concerned that it'll produce extra unnecessary plastics? Homethings has you covered, with our range of single-use plastic free, non-toxic cleaning products. Check out our eco cleaning spray starter kit, dishwasher tabs, laundry pods, floor cleaner, and compostable sponges.