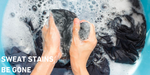 How to remove sweat stains
Sweat stains can be a real bummer. Whether you're trying to get ready for a job interview or just want to look your best, they're often unwelcome guests. But don't worry—we've got the solutions for you! Let's break down the different ways you can remove sweat stains from your clothing and keep them away for good. 
The Pre-Treatment Method 
Before delving into the nitty-gritty of how to remove sweat stains, let's start with pre-treatment methods. There are sprays and powders available in stores that act as a barrier between your skin and your clothes. This helps prevent perspiration from seeping into fabrics and creating those pesky yellow stain marks. Just be sure to follow the instructions on the product packaging! 
The DIY Method 
If store-bought products aren't quite up your alley, you can always try out some DIY approaches to removing sweat stains. One easy solution is to mix 1 part white vinegar with 4 parts water and spray it onto the affected area before washing your clothes as usual in detergent and hot water. The acidity of vinegar helps dissolve protein-based substances like sweat, preventing them from sticking to fabric fibers. Another option is using baking soda mixed with cold water—just apply it directly onto the stain before washing as normal, then air dry or tumble dry on low heat setting after laundering is complete. Bio pods are usually better at tackling these sorts of stains, as the enzymes really get in there and break it down. For an eco-friendly option, check out our Laundrythings.
The Professional Approach 
You may also opt for a professional approach by sending your garments off to a cleaning service for specialized treatment. These services use solvents rather than water or detergents, which means that delicate fabrics like silk or wool won't shrink when they're cleaned in this way. It's important to note that this method isn't cheap; however, if you have some expensive pieces of clothing that need special care, it might be worth investing in this type of service. 
And now you're fully prepped to take on those pesky pit stains… you're welcome.