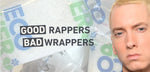 BAD WRAPPERS AND GOOD RAPPERS
It's been a whopping 12 years of Plastic Free July which has made waves in bringing the problem of plastic to the limelight.. But there are definitely still moves to be made, considering that the biggest Eco cleaning brand still sells 'eco' dishwasher tablets that are individually wrapped in single use plastic. If even eco brands aren't moving away from this, what hope do we have for the big, bad *non-eco* brands? It's clear that there's a pretty hefty problem to tackle here.
But it's not really like us to just invoke a sense of doom and gloom and leave it there..
Hence, GOOD RAPPERS, BAD WRAPPERS.
 At Homethings, we do our absolute best to make cleaning as *clean* as possible…And whilst a lot of rappers' lyrics don't tend to be the cleanest, we're pretty big fans of the genre.
So, in classic Homethings style, we conducted a poll to bring attention to the problem of plastic wrappers…you guessed it…by talking about rappers. Let's talk about the UK's top 20 favourite rappers.
Eminem stole the top spot as the UK's favourite rapper with a whopping 39% of Brits naming him their number 1. The Real Slim Shady himself was closely followed by Stormzy and Snoop Dogg (who took second place). The top 10 also included Nicki Minaj, Drake, and dare we say it…Kanye West. 

Bottom of the list saw Megan Thee Stallion, Nas and Little Sims.. and despite headlining Glastonbury, Stefflon Don landed bottom spot.
But there is one (w)rapper above all others that Brits want to see banned for its explicit content - and that's single-use plastic wrappers. A whopping 80% of the nation said they want to put a stop to the world's biggest plastic polluter*.
We're trying to make your decisions easier, creating sensible solutions to the single-use plastic madness. And yes, we do have plastic-free dishwasher tablets, delivered through the letterbox. 

Makes sense. 


List of the best and worst UK and US rappers:
Eminem
Stormzy + Snoop Dog 
50 Cent 
Drake 
Niki Minaj 
Jay-Z + Dr. Dre 
Kanye West 
Tupac 
Ice Cube + Notorious B.I.G 
Missy Elliot + Dizzee Rascal 
Run DMC 
Lauryn Hill 
Kendrick Lamar + Lil Wayne 
Busta Rhymes 
Queen Latifa + Ludacris + The Streets + Travis Scott + AJ Tracey + Skepta + DMX 
NAS + A$AP Rocky + Bugzy Malone + Public Enemy 
Megan Thee Stallion 
Giggs + M.I.A 
Stefflon Don + A Tribe Called Quest + Eve + Kano + Little Simz 
Research conducted by Prospectus Global in June 2023. Poll of 2,000 British adults aged 18+