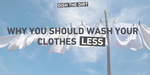 THE RISE OF THE NO-WASH MOVEMENT
How often do our Things really need washing? Do we really need to wash our t-shirts after every wear? When was the last time you washed that pair of jeans? They don't smell but… is that a bit grim? The truth is that a lot of us are overwashing our clothes, and by cutting down how often we all put a load on can make a huge environmental difference. 
A cleaning brand telling you to clean less? You heard us right. Let's Dish the Dirt…
THE PLANET VS YOUR LAUNDRY
Whilst washing your clothes is (of course) super important, there are a couple of factors that make putting a load of washing on not-so-planet-positive.
When our clothes are washed, fibres from the material are released into the environment. In fact, a whopping 35% of microplastics in our oceans come from washing clothes, and a lot of these will end up being consumed by marine life. And even other fibres, from natural materials like cotton, can still pose an environmental threat. In the UK alone, our laundry releases microfibres weighing the equivalent of 1,500 buses each year, and fewer clothes washed = fewer fibres released.
The water + energy waste produced by laundry is also pretty hefty. Even the most high-efficiency washing machines will be using around 15-30 gallons per load. As well as this, washing and drying one load every two days creates around 440kg of CO2e each year, which is equivalent to flying from London to Glasgow and back with 15-mile taxi rides to and from the airports. So cutting down even by half can massively reduce your carbon footprint.
And finally, as the slightly depressing cherry-on-top, the laundry products we decide to use also have a carbon footprint: from sourcing ingredients, to manufacturing the products + packaging, transporting, and product use. On top of this, big brands encourage you to use more than you actually need to get the job done. This is one we can help out with though (you're welcome)… with our non-toxic, plastic-free, carbon neutral Laundrythings (click here to check them out). They also come in a single 15g dose (rather than the a 45g scoop) - because why use more than you have to.
RIGHT THEN. HOW OFTEN SHOULD I BE WASHING THINGS?
To answer this question, we have 3 sources: a sustainability lecturer at the University of Leeds, Stella McCartney, and a man that once went a week without washing his pants for the sake of the environment (aka, the dream team). And whilst they have slightly different ways of phrasing things, all 3 are in agreement that if your clothes don't smell, then you probably don't need to wash them… the good old fashioned sniff test. And, when you do decide to wash them, then wash them in the most effective way. That may be a damp cloth on a small mark, a full wash on a lower temperature, or a refresh cycle without any washing powder at all. If a jacket has a bit of a bbq smell from being stood near the sausages at a sunday afternoon party, but is otherwise clean, maybe leave it to air outside for the afternoon first. If you get a little spot of mud on your freshly washed jeans, wait for it to dry and brush it off.
SOME OTHER PROS OF REDUCING THE LOAD
As well as a win for the environment, there are tonnes of other ways that washing your clothes less can take a load off your mind.
And it's not just the environment that's winning when you wash your clothes less.
For a start your clothes will last way longer as, during a wash, garments get microtears, can shrink, and can fade. This means they'll need replacing less often – helping out your bank account + reducing the all-to-easy-cycle of buy, use, chuck. Some clothes will also begin to look way better – like your jeans. According to Levis CEO Chip Berg, a good pair of denim doesn't really need to be washed in the washing machine except for very infrequently or rarely. There's even a denim-no-wash club, started by Hiut Denim Co (to join, just don't wash your jeans for 6 months and the wear-marks will look amazing).
Moral of the story. Wash your clothes less, wash your clothes on cool settings, and wash your clothes with eco laundry detergents. You'll end up with a smaller environmental footprint, a very cool wardrobe, and enough free time to finally pick up knitting / Brazilian jiu-jitsu / *other rogue dream hobby*. Makes sense.