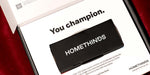 It's Black Friday but better.
We are cleaning up Black Friday.
Homethings is teaming up with our friends at Surfers Against Sewage for Black Friday weekend 2020.
We will be donating 20% of all sales made across the weekend to SAS to help them on their mission to fight plastic pollution. 
So: who are Surfers Against Sewage?
We are a grassroots movement that has grown into one of the UK's most active and successful environment charities. 
We'll always care about Water Quality issues and our Safer Seas Service continually monitors sewage spills in real time on beaches around the UK. But 'Plastic is the new sewage' as it is now the biggest threat to our beaches, our precious marine eco-system and our happiness. 
Our priority is to gift the plastic pollution that blights our beaches and strangles our seashores. 
We adopt a two-pronged approach:
Stopping the problem at source.
By tackling society's throw away culture when it comes to single-use plastics, we aim to change consumer behaviour and industry standards. 
Cleaning up pollution form our beaches.
We're a movement of do-ers, not just talkers. So we organise more beach cleans than any other charity in the UK. 
Success and Challenges
98.5% of England's bathing waters passed the Bathing Water Directive's minimum standards in 2016, compared to what would have been only 27% in 1990 when we started campaigning on the sewage issue. 
Our supporters helped campaign for the plastic bag charge which has already take out over 6 million plastic bags from the environment!
Throwaway plastic pollution is our new sewage. 12 million tonnes of marine litter and plastic enter the oceans every year. 
Our beach clean volunteer community is the biggest in the UK!
Over 225,000 people have joined us in calling for a deposit return system to stop plastic bottle pollution.
20% of all Homethings sales from Black Friday Weekend (Friday 27th November - Monday 30th November) will be donated to our pals, Surfers Against Sewage. 
Cleaner home, cleaner planet.