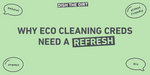 CONFUSED BY ECO-LABELLING? US TOO.
At this point, I'm sure we're all aware of huge companies 'greenwashing' (marketing themselves as sustainable when really, they're just doing the bare minimum). Unfortunately, it's not just the big bad businesses of the world that are muddying the waters for consumers...companies closer to home are making things even more confusing! It's time to talk about misleading claims within our very own industry… eco cleaning creds needs to be clearer. Let's Dish the Dirt.
_________
So what do we mean by eco claims? Well… picture this…
You walk into a Tesco. You start your weekly shop and, finally, you reach your favourite aisle (the cleaning aisle… of course). You go to pick up your usual eco-friendly laundry pods when you spot a new brand that has launched, claiming it's 'the first laundry pod that doesn't harm Ocean Life"' (real example - naming no names). Your heart sinks… you thought you'd been making good decisions with the pods you already used. What was even in your regular pods that could harm ocean life? And then, you realise that it isn't an official claim. And that this is part of a massive wider problem. Eco brands trying to 'out claim' each other.
There are some official accreditations that businesses can apply for (Vegan Society, EU Eco Label, Leaping Bunny), but they can also make their own 'claims' on their packaging and in their marketing. The Competition and Markets Authority (CMA) is responsible for investigating any claims that are untruthful, inaccurate, unclear, ambiguous, or make unfair comparisons – but these investigations only happen after the claim is out in the open. And actually getting the business to take action is absolutely not a speedy + quick process.
The CMA themselves spoke out in January about concerns of greenwashing within the home care industry, after finding that almost 100% of toilet products have some kind of 'green claim' on their packaging. In response to this, they're going to be turning their focus away from fashion brands (after launching enforcement action against ASOS, Boohoo and George at Asda in July last year) towards the home care sector. Members of EU parliament are also backing draft legislation to stop misleading claims on product packaging and in marketing, especially around carbon offsetting (we've been trying to tackle this issue by including carbon labelling on our packaging and saying "we've offset a product's emissions" instead of saying "it's carbon neutral", so are super excited to see action being taken). On top of this, the Advertising Standards Authority (here in the UK) is planning to clamp down on carbon neutral claims in ads.  But as eco brands, shouldn't we be setting the standard for transparent + clear labelling, so that the CMA and ASA can focus on the biggest greenwashers in the cleaning world?
We completely get that standing out on-shelf isn't easy, but confusing claims are a win for no-one. In the end, all eco brands are fighting the same fight and misleading claims just muddy the water for people who actually want to help in the mission to reduce waste. It's messy, it's unfair and (in the long run) it's damaging the reputation of an industry that's fighting for good.
Eco cleaning needs to clean up its act. 
_________________________
Here at Homethings, we're all about transparency. That's why we decided to bring carbon labeling to the world of cleaning. Our carbon labels show the total amount of greenhouse gases related to a product – from production, to distribution, all the way to product disposal.