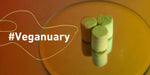 Going Plant-Based in 2022? | #Veganuary
In 2022, Veganism is booming in the UK. But what exactly is a 'plant based' lifestyle and why should you care when it comes to your cleaning products? 🌿
As reported by The Guardian, a record breaking 500,000 people signed up to the #Veganuary challenge in 2021, doubling the number of participants from 2019. You may have heard of this viral hashtag from TikTok or Instagram, but for those of you who've been living like Patrick Star from Bikini Bottom under your rocks, it's a growing global challenge that sees people pledging to live a 'vegan lifestyle' throughout January and beyond. 🌟 It encourages people and businesses alike to move to a plant-based diet as a way of protecting the environment, and preventing animal cruelty and suffering, while also improving global health.


But what does having a vegan or plant-based lifestyle mean? Isn't it just a dietary measure? This is a question that has caused a bigger stir than Brad Pitt's manbun at the 2021 Oscar's ceremony. 👀 To some it is, but it can also be so much more.

The people over at Sentient Media have proposed that: "Living a vegan lifestyle means abstaining, as far as possible and practical, from anything that requires the exploitation of another living being." Through this scope, veganism as a lifestyle encapsulates refusing to wear or buy leather or other clothing made from animals, purchasing cruelty-free products that haven't been tested on animals, avoiding forms of entertainment that employ animals (like travelling circuses), and even making building and gardening decisions that limits the impact to animals and the surrounding environment.

This may seem quite the challenge, but it looks like one the UK's been up for already. Between 2014 and 2019, the number of people in Great Britain going plant-based has quadrupled! The Goodness Project reports that only 150,000 people identified as vegan in 2014 - 0.25% of the population. 🌿 The trend has continued to grow, with 2019 seeing over 600,000 people attesting to following a vegan lifestyle - now 1.16% of the country.

A survey conducted by Waitrose in 2018 found that 1 in 3 Britons have already stopped or reduced their meat consumption. Interestingly, an additional 1 in 5 said they would consider going vegan, and it has also been estimated that around a quarter of all evening meals are now either vegetarian or vegan. It really does seem like the UK population are making like the dinosaurs and becoming herbivorous. 🦕

Now, we don't hide the fact that we're proud to be certified by The Vegan Society and Cruelty Free International. Being sustainable and ethical through causing as little impact to our ecology and environment as possible is at the core of what we do at Homethings. 💚 But, we're often faced with the question online of: "Well, aren't all cleaning products vegan?" And the answer is pretty straightforward. Some cleaning products actually do contain animal byproducts.
Why do other cleaning products contain or test on animals (and not Homethings)? 👀

In 2015, a ban on testing household products on animals passed through the UK Parliament following a coalition government pledge. The policy of this ban, however, was subsequently watered down and now only applies to 'finished products.' Sneaky brands may claim that "this product is not tested on animals," but this may hide the fact that its ingredients may be. Similarly, "this company does not test on animals" may signal that a product is cruelty free, but may not include whether they contract out the testing of their products and ingredients to another party. 🐍

Here at Homethings, we believe that testing on animals is bonkers. But we also don't want you to just take our word for it. We know you're smarter than that. 😉 That's why we've obtained third-party accreditation from Cruelty Free International, successfully passing their inspections and guidelines to prove that we do not - and never will - test our Things on animals. You can see this on products that contain the Leaping Bunny logo.

Additionally, you might assume that the cleaning products you use at home don't contain animals or animal byproducts either – because, I mean, why would they? But ingredients such as lanolin (derived from sheep's wool), caprylic acid (sourced from cow's milk), oleyl alcohol (taken from fish), and beeswax (made by bees), and many others, are common features in many of the cleaning products that people may use on a regular basis.
So, what about Homethings? Since launching in 2020, we're proud of our certification from The Vegan Society – meaning that none of our Things, or their packaging, contain any traces of animals or animal byproducts. We want to provide you with the most reliable and high-performing clean time after time. That's why we found a way to do so, and without being cruel to animals while causing as little impact to the environment as possible. Instead, our Things are made of non-toxic ingredients that are 100% biodegradable and home-compostable! 🐰

Our variety of powerful eco cleaning products, such as our Keep It Clean Kit, Dishthings, Laundrythings, Floorthings, and Spongethings, are cruelty-free and vegan. And do you know the best part? They always will be.

You can also get our Bundle Is Massive to help save not just the planet, but also your wallet – it's a win-win. 👏