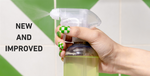 Is this our best all purpose cleaner yet?
Tabletised cleaning. It's been our Thing since we launched and will continue to be our secret favourite child in our mission to change the way the world cleans. But whilst 94% lower carbon emissions and 0% single-use plastic are pretty good accolades for our tabs, we always believe there's room for improvement. Our aim is to make the best UK all purpose cleaner, glass cleaner and bathroom cleaner all whilst being non-toxic, refillable and tabletised. 
Like all good things, it's time our powerful cleaning tabs had a glow up – making our planet positive sprays even more punchy. But we couldn't have got here without our community and OG refilla's, who've been on-hand with feedback, compliments and constructive critique along the way, leading us to version 2.0 that we can barely contain our excitement about.
Introducing Allthings, Baththings + Shinythings: 2.0
1) INCREASED POWER
The dirt-defeating, grime-grappling power you've been dreaming of, without the nasty chemicals that most big companies use. These leveled-up cleaners also mean that you don't have to use as much product, meaning they last even longer.
2) UPGRADED FRAGRANCES
We've been working hard, tweaking our fragrances to make your cleaning experience even more enjoyable. In the words of refilla, Ms Kelly T, our products can 'make cleaning feel more like an aromatherapy workout'.
3) QUICKER DISSOLVING
Making up a brand new bottle of cleaning spray, with just a tab and tap water, has never been simpler. Our new tabs dissolve even quicker, meaning that you can get your clean on without the wait (it's also even more fun to watch).
4) LESS WASTE
We're all about doing more with less, so when we had the opportunity to slim down our packaging and produce even less waste, we took it. Each tab now comes in a slimmer sachet (still 100% recyclable) - makes sense.
Version 2.0 really is a level up. But the hard work doesn't stop here. We're going to keep our eyes peeled for feedback and keep improving our products again and again. Watch this space.