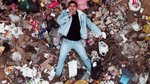 Making Sense of Recycling Plastic (Spoiler: We Can't)
Plastic. We use it, we wear it, and unfortunately for every living thing on the planet, we chuck it. The very word 'plastic' sends shivers down most people's spines nowadays – and so it should. Every day approximately 8 million pieces of plastic pollution finds its way into our oceans. You don't even need to be good at maths to understand the severity of the problem that we have on our hands.
The worst part? It's a problem in which we can't help but take part. We try our best to pay attention to the 'Green Goddess' section of TimeOut on the tube and roll our eyes (it's not subtle, Darren) when we see the person at the front of the queue actually paying for a 10p bag. But then every month or so we go and repeat purchase our favourite brand of shampoo, wrapped up in solid plastic. Does that make sense?
In a word, no, but then not many things in our world do. Trying to make sense of why we care more about one burning church than an entire burning rainforest is a challenging way to start any day. Pondering why Greta Thunberg gets trolled over her latest protest but Khloe Kardashian gets praised over her latest 'revenge bod' – the mind boggles.
Then there's the big one: corporations continuing to sell us single-use plastic and telling us that recycling plastic is the solution to our environmental woes. While recycling is great for giving items a longer life and value per usage, the reality is that most of your efforts of putting the right things in the right recycling bins won't be doing much. That's because 91% of plastic is never recycled, and we're producing more plastic that we can handle. It isn't good enough to stick a giant green arrow on your products and expect consumers to do their bit.
As a small island, we're spilling over the edge with polyethylene – but instead of figuring out a way to deal with it we pack it all into containers and ship it halfway across the world for someone else to deal with. Because as long as we can't see the problem, it's not really there...right?
Long gone are the days of society making clowns out of the so-called 'hippies' choosing to shop sustainably at waste-free stores. We are waving goodbye to the idea that water needs to be bottled in single-use plastic to be consumed (whose idea was this anyway?) Enter a new wave of conscious activism that will help fish out those responsible and anchor our principles to do more and do better.
At Homethings we believe that there is no excuse for single-use. We hear the demand for a better alternative to plastic that helps us live in a better world. And while we might not be able to save the planet on our own, we can definitely do something that makes sense. Our starting point is reusable household cleaning products. We're coming for your under-the-sink mayhem of plastic bottles and offering you something sustainable that will clean the house, your habits and your mind (spraying directly onto head not advisable). If that's not an excuse to watch animal karaoke videos for the rest of the day in celebration, then what is?


Don't get FOMO. Sign-up here for updates, tips, tricks, the odd meme - you lucky thing.
And to hear Shivani talk more about the not-so-sensible-side of recycling plastic waste, click the video below.