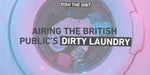 OUR LAUNDRY HABITS AREN'T SO SQUEAKY CLEAN
We get it… convincing yourself to actually put on that load of laundry in the first place is challenging enough without having to take the planet into account. 
But, once you're in-the-know, it's super easy to tweak your habits to reduce both your footprint and the cost of your energy bills (although we can't promise it'll make wrestling the duvet cover on any easier ).
AEG have just released a study on the UK's washing habits, and it's time to air the British public's dirty laundry. Let's Dish the Dirt.
–––––––––––––––––––––––
A LIGHTNING SPEED RUNDOWN: LAUNDRY VS THE PLANET
Before delving  into the juicy details , let's recap just how much of an impact laundry can have on the planet.
Water + Energy: A single load of washing can use up to 113 litres (or 200 pints) of water. That's like taking a shower for an hour straight (which would not only lead to the wrinkliest skin ever, but also be pretty expensive). As well as this, washing and drying one load every two days creates around 440kg of CO2e each year, which is equivalent to flying from London to Glasgow and back with 15-mile taxi rides to and from the airports. And with most of us using ancient two-in-one washer/dryers, we're using tonnes of energy to leave us with a delightful pile of warm, but still damp, clothes. 
Detergents: Most detergents are chock-full of chemicals that are not only bad for the environment, but aren't really necessary for effective cleaning. Chemicals like phosphates (which can easily be replaced with eco alternatives) are added to help boost cleaning power but, once in our waterways, cause algal blooms which massively harm aquatic ecosystems. Eco ingredients like zeolites are proven to be just as effective, but with most companies striving to use the cheapest ingredients possible… they're opting for the less sustainable option. Big brands are also encouraging customers to use more in each wash than is actually needed to get the job done – so that they're coming back for more, sooner.
–––––––––––––––––––––––
UNLOADING THE REALITY OF OUR LAUNDRY HABITS
So… now onto the data on all of our laundry habits… This year, the household appliance company AEG released its largest-ever European study on laundry habits, called 'The Truth About Laundry'. The results are absolutely fascinating, PLUS they identified a few main areas that we can all improve in.
KEEPING IT COOL
The study found that, although the UK is making really strong progress with switching to washing at 30 degrees, 9.5 million British households are still washing at 40 degrees or more. And the most shocking results, over a quarter of the people surveyed didn't even know how to change the temperature on a washing machine, and a whopping 35% didn't know they could change the wash times. Washing at 30 degrees can save around 40% of the energy needed to run a washing machine (and reduce the amount of microplastics released from synthetic clothing).
FILLING IT TO THE MAX
Since the last 'Truth About Laundry' study, in 2021, the percentage of households making sure to always wash full loads of laundry has increased from 33% to 42%. But in almost a quarter of households, full loads of washing aren't happening even regularly, mainly due to worries about colour running (and over-separating into multiple tiny loads: whites, very lights, lights colours, darker colours, extra dark colours, obsidian black clothes etc). Washing a full load makes the  most of both the water and the detergent that's going in with the clothes… plus it'll save you time mulling over whether that top should go in darks or colours. Bonus points for using an eco-friendly detergent, so that if you do slightly overdose, no harmful chemicals are running off into the environment. Our Laundrythings are the perfect size for 1 load of clothing (no overdosing) and are free of harsh chemicals.
ACTUALLY READING THE MANUAL (we must admit we're guilty of this one)
For those of us with the 'I've used a washing machine before, how hard can it be' attitude (apparently around 25% of us) there are actually LOTS of benefits to giving it a once-over. Most modern machines have loads of super useful, niche settings and functions - with pretty unmemorable names (think PowerClean, EcoMode, AutoDose). Huh? For example, AEGs 'SteamCare' mode just refreshes clothes instead of washing them, which saves 96% of the water. So why not give it a read.