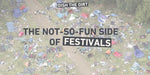 WASTED WASTELAND: THE SOBERING REALITY OF FESTIVAL WASTE
We've all seen the dystopian aftermath of music festivals. It's like there's been a zombie apocalypse in an overcrowded campsite (if the zombies really enjoyed a strongbow dark fruits cider). An absolute sea of plastic waste and a genuinely jaw-dropping sight. But what's being done about it and what do you need to know…
Festival season is upon us – and it's time to Dish the Dirt.
–––––––––––––––––––––––
So, how big is the issue really? The answer: pretty big. Each year, festival goers create around 25,800 tonnes of waste (in terms of plastic bottles, that's enough waste to fill tens of thousands of swimming pools). And whilst this is a 29% reduction from 2014, each attendee is still producing nearly twice as much waste as they would at home (with fewer ways to dispose of it). A whopping 250,000 tents are estimated to be left behind every year, alongside over 2 million plastic bottles. In fact, at each festival, it's estimated that 90% of the single-use plastic items (including straws, cutlery etc) will end up being littered across the site.
On top of the obvious issues, like easy access to bins and the cost of installing simple-to-use recycling systems, fake news surrounding what happens to the waste left on site is a huge problem. In the past, festivals like Reading and Leeds have announced that left-behind tents could be donated to charities - which caused a spike in the number being abandoned. In reality, most of the tents left behind are suitable for re-use at future festivals, but aren't in good enough condition to go to good causes- over 90% end up in landfill or being incinerated. The same goes for festival litter, with people believing that the clean-up teams will be able to sort through the waste themselves (when understaffing usually means most of the recyclable waste will be going straight to landfill).
But… the party must go on… and people are stepping up to the plate to help the UK's festivals clean up their act. The organisers of Reading & Leeds festivals (happening this weekend) have BANNED disposable vapes and bbqs, are setting up a cup + bottle deposit return scheme. On top of this, in 2022, they created an 'eco site', an area that is specifically for more eco conscious campers, which has tripled in size for this year. Glastonbury has also been banging the drum on the issue, meaning that not only are people leaving less waste behind but they now have a 1,300-strong army of recycling volunteers who contribute hugely to the clean-up and help to actually recycle the litter left behind. The UK government is also pushing for change, and released a report in 2021, describing a plan for securing a safe + sustainable future for festivals. 
That being said, education will always be the most important driver of behaviour change on-site (and will have the biggest impact on the size of the task for organisers). If every Glastonbury festival-goer used one napkin instead of four, there would be 450,000 fewer napkins wasted unnecessarily. And although physical waste left behind is just one aspect of the environmental impact of festivals, more planet-positive partying does appear to be in the works.
Festival chat getting you in the summer spirit? Why not give our G+T Cleaning Spray a whirl 🪩