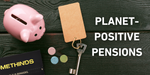 Planet-Positive Pensions: how to invest in the future
Pensions. We tend to think of them as a 'set it and forget it' type of arrangement. Maybe because they're not always considered the most 'fun' topic. Or maybe it's because we're not being encouraged to question where that money is sitting while we're working (and cleaning, for that matter).
Many of us may even feel like having a say over our pension, or what is done with it, is completely out of our control. In reality, your pension and other investments can be a massive force for good – which makes them a lot more interesting.
In the UK, our pensions add up to over £2.6 trillion. That is a HEFTY sum and is invested on our behalf, meaning that we can accidentally be funding industries that we aren't huge fans of – like tobacco, fossil fuels and arms.
For every £10 that we put into our pensions, around £2 can be linked to deforestation. That is pretty bonkers. There is good news, however: there are awesome companies out there ready to put the power back into our hands.
According to a study by Aviva and data analytics company Route2 (as part of their partnership with WWF-UK), making your pension green is more effective at cutting your carbon footprint than going veggie, giving up flying and switching to green energy providers… combined. That's 21x more effective – wowza.
Plus, it's a lot less effort. You can literally do it while sitting on the sofa with a cuppa. And you don't have to choose between investing in good companies and having good financial returns, with evidence showing that sustainable, resilient companies are actually the most likely to perform better in the long run (especially as government regulations get tighter and consumers become more likely to make eco-friendly choices). Great news for your wallet, even better news for the planet.
Image a Homethings billboard here. Wouldn't that be the dream.
MAKE MY MONEY MATTER
'Make My Money Matter' is an awesome campaign spearheaded by Richard Curtis (yes, the RC of' Love Actually' fame). By fighting the good fight against the current system, they're helping us move towards a world where we know where our pension money goes and demand that it's invested in building a better future. In their words: 'What's the point in saving for retirement in a world on fire?' 🔥
Online you can find tools to help you switch to a top-rated fund for any self-invested pension plans, contact your pension provider to ask them to invest your money more greenly or start a conversation with your employer to find out more about how they're investing. They also have a petition to sign, calling on all UK pension funds to commit to Net Zero emissions by 2050. Absolute heroes.
We always strive to be fully transparent and push for sustainable change.
LEVELLING UP
We're super proud to be able to say (*drum roll please*) that Homethings is now a signatory on the world's first Green Pensions Charter, meaning that we'll be working with our pension provider to make sure that our employee pensions line up with our values: being transparent and truly pushing for change. Makes sense.
Finding yourself revved up and ready to green your money? Your pension isn't the only way to do this. Apps like Clim8 Invest, CIRCA5000, and Nutmeg can help you to invest personally in leading companies in sectors that fight climate change, with expert help. They even have a running track of how much CO2 you're saving by switching and investing with them. You can also check out how green your bank account is using tools like Switchit and, if you're not chuffed with the results, can look into switching to a more ethical bank.
. . .
DISCLAIMER: The information in this blog post is for educational and informational purposes only. It is not intended to be and does not constitute financial advice or investment advice. You should always make sure to do your own thorough independent research or consult with a professional financial advisor. The companies named are in no way affiliated with Homethings and we are not receiving any benefits or commissions of any kind by mentioning them here.