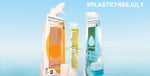 WHY WATERLESS MAKES SENSE THIS #PLASTICFREEJULY
Did you know that a typical bottle of household cleaning product is 90% water packed in single-use plastic? Where's the Method in that madness? We're on a mission to change the way the world cleans, one eco cleaning product at at time. Here's 
three big reasons why waterless products make sense:
🫧 #1 - 800,000 MILLION GALLONS of water are being unnecessarily shipped around the world every year by the Home Care industry according to industry giants Procter & Gamble
Water is heavy + bulky = HUGE unnecessary carbon emissions. 
To put that into perspective: 
On one delivery truck, Ecover + Method 
can fit approximately 18,662 cleaning sprays.
On one delivery truck, Homethings
 can fit approximately 252,720 Homethings cleaning sprays. 
..and the carbon saving of our tabs = c.94% 
🫧 #2 - BILLIONS OF SINGLE-USE PLASTIC BOTTLES are being used every year.
With WATERLESS refills, the single-use plastic issue vanishes. Just keep refilling the same packaging over and over again.
🫧 #3 - 1.8 BILLION PEOPLE will live in water scarce areas by 2025 according to the UN. So why are we still purifying, bottling and shipping BILLIONS of gallons of fresh water for consumer products like Laundry Detergent and Cleaning Sprays?
Bonkers.
Waterless pioneers to try this Plastic Free July:  
🏡 Home Care:  
www.gethomethings.com
🧼 Personal Care: 
https://cleanwith.plus/
 and 
https://ethique.co.uk/
🥛 Beverages: 
https://drinkplink.com/