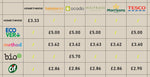 For the bargain hunters.
Sure, you know the cost of Homethings but let us do the maths for you on how it stacks up against some of the other big players. Check out our nifty grid below to compare the price of cleaning products per litre with market leaders.
Homethings tablets are cheaper per litre than all other market leading brands – apart from Cif. We're working on that one.
Notes. 
Prices are regular, unpromoted retail prices from stores websites.
Homethings prices based on our subscription pricing for our refill tabs only, includes delivery.
Prices are all on a per litre basis, based on like for like multipurpose surface care products as outlined below (last updated 07.01.21):
Ecover Multi-Action Spray (500ml)
Method Antibacterial Allpurpose Cleaner Spray (828ml)
Bio-D Allpurpose Sanitiser Spray (500ml)
Cif Power & Shine Antibacterial Multipurpose Spray (700ml)