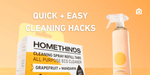 Quick + Easy Eco Cleaning Hacks with Homethings
Spring is upon us and so are the cohort of people telling us to get our 'Spring Clean' on.
But wait a second. Who are they, or even us as an eco cleaning brand, to tell you when and how long to clean for? You're a busy person with a (hopefully) scorching week or weekend ahead of you to enjoy.
So instead, here are some tips on how you can blitz through your cleaning routine in no time at all.
 ⏰ Set a timer:
While cleaning, it's easy to slip into a laid-back groove – much like Sunday morning drivers. Your inner perfectionist loves feeling like you've got all the time in the world to clean every single nook and cranny, and more power to you if you actually have. But when you've got places to be and people to see, it's a good idea to set yourself a deadline and stick to it.
It's even been proven that setting hard deadlines, such as one for your cleaning routine, can boost productivity and help you efficiently prioritise. We feel the added sense of urgency and commitment gives us a gentle, but much needed, kick up the backside to see us through to the all-important flip-side.
Less scientifically, pretending to clean like you're doing a final lap on Mario Kart may also help. But if that's not quite your vibe, maybe cleaning to one of our dedicated Spotify playlists might be?
🍋 Get rid of sink odours with baking soda + lemon juice:
Cleaning the sink is one thing, but cleaning the inside of it is another – especially when all that smelly food residue becomes intolerable. But if you're like us and don't like using harsh chemicals in your cleaning routine, why not try out the more planet-friendly alternative of baking soda and lemon juice?
Try pouring half a cup of baking soda down your sink, followed by half a cup of lemon juice. Seal the drain, let it do its thing while you multitask like a pro, and rinse it down with boiling water an hour later.
The scent of last night's chilli con carne? It's like it was never there. And if you really want to go the extra mile, spritz some of our Shinythings onto your sink and give it a wipe with our magic Spongethings. Dazzling.
🤔 Rethink What's Under Your Kitchen Sink®:
Speaking of our kitchen sinks, let's take a second to consider what's below them. Loads of single-use plastic cleaning spray bottles? Don't worry, we've all been there. In the UK each year, we throw away just under 500 million single-use plastic cleaning sprays. And this is made even more staggering when you realise that only 9% of plastic that has ever been produced has been recycled. We think that's bonkers.
That's why we're pushing forward next-gen eco cleaning through providing refillable cleaning solutions, such as our cleaning spray starter kits. Say goodbye to single-use plastic waste and the needless shipping of water, and hello to a greener life of convenience and extra storage space.
This is also perfect for the last-minute cramming of your extra knick-knacks and paddy-whacks lying around the house before having guests over. It's smoke and mirrors, and sparkly ones at that.
💦 Refresh your mattress with vodka + essential oils:
Our refillable spray bottles can, in theory, also be used for other things. For instance, if you have a guest over and want to spruce up your old mattress (you cheeky thing).
Take your spray bottle and fill it up with vodka. That's right, vodka (one to two shots, to be exact). Believe it or not, it's actually a versatile cleaning agent that, when used sparingly, kills off bacteria, mites and bad odour.
Add in your favourite essential oil to give it your own 'scented stamp'. Then you can spray away (twice a year) knowing that you can no longer blame your mattress for a lack of a love-life. Just make sure it has fully dried out before putting your favourite superman bedding back on. Actually, maybe that's the reason…?
✨ Use an all-purpose cleaner:
In today's market, there are so many cleaning sprays to choose from. But if you're stuck for time and can't afford to make a cleaning pit-stop (even one that'd impress Lewis Hamilton), we'd recommend opting for an eco all-purpose cleaner.
Our Allthings could be just what you need. Trusty, multi-talented and a stickler for a sticky stain, it's effective on surfaces such as quartz, stainless steel, tiles, laminates, stone, marble, granite and sealed wood.
♻️ Save time with refill subscriptions:
This one's a real doozy of a tip. With Homethings, you can set up your eco cleaning subscription for one of our Things. This includes Washupthings, Dishthings, Laundrythings, and our cleaning spray kit, to name a few. They'll be delivered straight to your door, or through your letterbox, in a way that matches your lifestyle, needs and eco cleaning desires.
This will not only save you time from having to run out to the shops, but also significantly reduces your single-use plastic intake and carbon footprint. You'll also be saving some dosh too. What's not to love?
Subscribe and save
today.