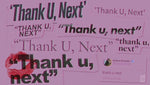 2019 has been some year. A lot of stuff has gone on, some bad, some great, and some utterly bonkers. Here's our round up of an interesting year and a teaser of what's to come.
Grown men and the so-called leader of a country bullied a Swedish 16 year old on social media. All because she's trying to do something about the climate crisis. And she even sailed across the ocean to reduce the heat (that she would have faced, and that this planet is going to face).
Governments gathered in Madrid for UN climate talks. 500,000 people marched calling for action, following up the global marches many of us have been a part of. Chema Vera of Oxfam International described the summit as responding with a "whisper...Instead of committing to more ambitious cuts in emissions, countries have argued over technicalities." Great job.
2019 was the year we found out plastic production is set to double by 2050. We found out that companies' obsession with selling us single-use items is ruining the planet. And we found out that recycling just isn't the be all and end all that we've told.
But it's not all doom and gloom. We chuckled as we found out 7% of Americans think chocolate milk comes from brown cows. And that Coca-Cola thought we would believe that they were truly part of the circular economy. If you didn't laugh, you'd cry.
One other good bit of news. Homethings is now out in the world and here to tackle all the nonsensical single-use plastic in your home. We are also here to shed some light on the weird and the wonderful nonsense that we see everyday.
2020 will be the year we help you say no to single-use plastic (under your kitchen sink first). We will make it easy for you to reuse and refill your household cleaning and personal care products. No more feeling guilty about buying a bottle of CIF, no more lugging your bottles to refill at the zero waste store. Sit back and relax as we take care of your single-use habit, and make you a re-use addict.
We can't do 2020 without you. So please let all of your friends know about what we are doing and get them to join the single-use plastic support club.

Stay tuned for a big 2020.