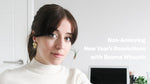 Non-Annoying New Year's Resolutions with Besma Whayeb
The Homethings team met up with sustainability blogger, Besma Whayeb, to discuss some conscious (and not annoying) New Year's resolutions...
1. Besma, tell us a bit about yourself. Cilla style: what's your name and where do you come from? 
Hi, I'm Besma, I'm the author of the sustainable fashion and lifestyle blog Curiously Conscious, and I'm from London!
2. 2019 was a turbulent year for the planet and for politics. What is the one thing you won't forget? 
You're so right, and it's Greta Thunberg who really stood out for me in 2019. I saw her at a rally in Stockholm in March of last year, and watched her progress into a world renowned environmental activist and all-round superhero, as well as Time's Person of The Year. Her fiery passion really highlighted the importance of sustainability and united generations and countries.
3. On a brighter note, we've hit the refresh button and we're now not only in a new year but a new decade. What are the resolutions you're taking forward? 
For 2020, my New Year's intentions are:
1. To read 1 book per month (seems easy but I only managed 7 last year!)
2. To travel more and fly less (eco holidays are totally a thing!)
3. To enjoy myself more. You've got to have fun, especially around the more serious subjects like sustainability!
4. What is the New Years Resolution that you always make but never stick to? 
I have tried and failed to keep a diary for so many years. I'll start on Jan 1st and then pick up the diary again in the middle of June. Thankfully blogging doesn't have to be daily!
5. Can you give our readers one piece of Besma's Best Advice for living more sustainably this year? 
Change up your habits. What small switches can you easily make? Think about dumping disposables and going for reusables. That's something you can do without too much effort, make into a new habit, and make a big impact over time.
6. Finally – what are you most looking forward to? 
I feel like 2020 is going to be the year of positive sustainability and climate action. I can't wait to work on both!
-
Image: Besma Whayeb, @besmacc
-
You can find Besma on all socials @besmacc and keep your ears peeled for her feature on Episode 2 of our
podcast
!