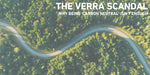 THE OFFPUTTING TRUTH ABOUT VERRA'S OFFSETTING
Introducing: Verra. Verra is a non-profit currently running something called the Verified Carbon Standard (VCS) Program. They also happen to be in our greenwashing-bad-books at the moment. Let's dish the dirt.
The VCS Program is a scheme that helps companies to offset their carbon emissions. A company buys a 'carbon credit', which Verra spends on an offsetting project (where one carbon credit = one metric tonne of CO2). 
This should, in theory, make it super simple for massive companies (like Shell, Disney, and Gucci) to throw some cash at the problem, tell their customers that they're offsetting their emissions, and give themselves a big pat on the back. And that's how it was… until researchers did a little digging into the projects that Verra was spending the *2 billion dollars worth* of carbon credits on every year…
The nine-month long investigation was carried out by researchers at the Guardian, backed up by the German magazine Die Zeit, SourceMaterial, and a group at the University of Cambridge (dream team). It involved a lot of studying satellite images and crunching data, as well as interviews with both climate scientists and people directly involved with the program (like industry insiders and Indigenous communities). Their research ended up in 2 peer reviewed papers - which means the scientific community thinks their findings are legit. And what they discovered was pretty crazy.
One of Verra's main ways to offset emissions is by protecting rainforests from deforestation, but the satellite images analysed by the University of Cambridge found that the unprotected sites weren't decreasing at the rate that Verra had predicted - meaning that the amount of carbon they were offsetting by protecting them was overestimated by up to 400%... bonkers. After looking at all of the projects, the investigative team suggested that credits from 21 out of the 29 Verra-approved projects had no climate benefits at all. And in the meantime, massive companies have been telling their customers that they're okay to fly to events, eat certain foods, or ship products across the world, without worrying about their carbon footprint.

As is always the way with this sort of critical report, Verra and the researchers have now been getting into the scientific equivalent of passive aggressive cryptic facebook posts (think: 'don't believe everything you read online hun…'). But whether or not Verra is willing to accept the claims, the real learning here is that carbon offsetting is complicated, hard to predict + measure, and will always take years and years to truly see the results. And whilst it definitely can be agreat addition to tackling the carbon crisis… it definitely shouldn't be seen as the solution. 
We need to be cutting down on producing the carbon emissions in the first place. The UN environment programme has identified six key sectors to start focussing on cutting down: the energy sector, industry, agriculture, transport, and buildings. And although this blog post definitely isn't the place for a deep dive into each of them, a lot of their suggested solutions revolve around renewable energy + energy efficiency, reducing food waste + moving towards more sustainable diets, preventing further deforestation + ecosystem degradation, and reducing emissions produced by transport. It makes sense. Stop the issue at the source rather than scrambling to offset as it's produced.
______
If we're thinking of cutting emissions produced by transport… waterless products are a great step in the right direction. In the Home Care industry alone (the industry we know best, here at Homethings) 800,000 million gallons of water are being unnecessarily shipped around the world each year. Water is bulky + heavy, which means an increase in the number of emissions. The easiest way to think about this is to compare directly:
On one delivery truck, a typical cleaning brand can fit approximately 18,662 cleaning sprays.
On one delivery truck, we can fit approximately 252,720 Homethings cleaning sprays.
This means that the carbon savings of switching to our cleaning spray tabs is 94% with no shipping water and no single use plastic. It makes sense.