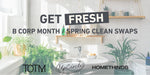 Get Fresh – 3 Eco Swaps to Help Clean Up Your Routine
It's officially Spring Clean season – the perfect time to take a look at the space around you, as well as your routine, and see if there are any areas that need a little freshen up. Seeing as it's also B Corp Month (this time of year really is like Christmas for us here at Homething HQ) we thought it would be the perfect time to chat about three B Corps that will help give your self care routine a revamp, without making a mess of the planet
HOMETHINGS
With warmer weather and lighter evenings on the horizon, we're all ready for a mood boost - and a clean and tidy home can help declutter your mind. Clinical studies have found that the act of cleaning can have a calming effect on the body, similar to meditation - so giving your house a once over really is an act of self care. 
Homethings are on a mission to clean up cleaning with tabletised, refillable, non-toxic cleaning products. They're better for you, with no harsh chemicals hanging around, and the planet, with no single-use plastic or shipping heavy water around the planet.
Recommended product: Bundle Is Massive
UPCIRCLE
Upgrading your skin and body care is a great way to add an extra level of self care into your daily routine, whether to stop skin drying out in winter or protecting it from the harsh summer sun.
UpCircle's sources and rescues by-products from other industries – the food and drink industry in particular – to create their range of skincare products. All products are vegan, cruelty-free, and zero waste (with their return, refill, reuse scheme). 

Recommended product: Travel-size Skincare Bundle
TOTM
Whether you're the owner of a uterus, or have some uterus-owning people in your life - having a stock of period care products around is never a bad thing. Or even better, having a box of plastic-free, organic cotton tampons in a colourful box you'll want on display can really help to add a little bit of joy into a potentially not-so-joyous part of your (or your friends') self care routine. And with 200,000 tonnes of waste produced by the period-care industry each year, you'll also be doing the planet a favour.
Check out TOTM for ethical, sustainable period care products. No plastic packaging, no plastic applicators, no harmful chemicals and zero-waste reusables. Their tampons, pads, and liners are made with certified organic cotton – grown without toxic, synthetic pesticides and uses sustainable farming methods.

Recommended product: The Period Self Care Bundle