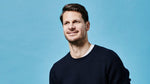 A Proper Talk about Businesses for Good with Ryan Kohn
We talk to Ryan Kohn about his journey with entrepreneurship and sustainability – from setting up club-nights when he was 18 to being the co-founder of Proper, we discuss conscious living, BCorps and whether plastic bags are really that bad.
Homethings: Hello. How did your sustainability journey start? 
Ryan Kohn: I've actually just always been really conscious about the environment, I couldn't identify a moment when that lightbulb moment happened. I remember being at school and taking a football into the playground, and I would go round and pick up all the bits of leather that came off and littered the playground. I've always been a bit of a stickler for littering! I think it's just a connection with the environment, and I know we all have a connection with the world in different ways, and this is one that has just become more and more prominent for me as I've got older. 
Homethings: We really like how that connection is something that you've wanted to carry forward into your businesses. Proper is B-Corp certified; can you tell us more about what that means?
Ryan Kohn: B-Corp is an amazing organisation that started in the US as a way to encourage others to use business as a force for good, and they've created an accreditation system that evaluates your business on every single social and environmental factor – you have to score a minimum of 80 points to become a certified B-Corp. So it's not just something you can pay to achieve, you have to go through a strict process to become verified. Proper is proud to become B-Corp but it's just the start of the journey; the recognition is nice but it doesn't stop there. With any business, you sadly can't go about your day without doing more harm than good – you get the bus to work that releases emissions, you have fruit for breakfast that's probably wrapped in plastic and has been flown half way across the world. The world is set up that way right now, so it's hard to be perfect, but B-Corp really drills in goals on how you can improve. 
Homethings: So with businesses as a force for good, what more could businesses be doing to actually do good? 
Ryan Kohn: I hate the word 'should' because it feels like I know better – every business is different. There's some brilliant businesses out there, like Who Gives A Crap, who have a fantastic business model. They approach their product in a fun and vibrant way whilst also giving 50% of profits to charities and communities. I think it's about doing what you can within your means as a business and setting yourself good, punchy targets, that encompass people and planet and minimising impact on both.
Listen to the full chat over on Acast, Spotify and Apple.
Podcast released: January 28th 2020