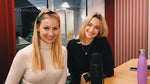 Beauty that doesn't cost the Earth with BYBI Beauty
Homethings sit down with Elsie Rutterford + Dominika Minarovic – co-founders of Clean Beauty Insiders and BYBI Beauty.
We chat about sustainability touchpoint at every angle for BYBI, from the ingredients, the manufacturing to the packaging as well as Gweneth's vagina candle and why clean beauty doesn't need to cost the earth.
Homethings: You both founded BYBI after working on a blog together called Clean Beauty Insiders. How did you translate your love and passion for natural beauty into a business? 
BYBI: A core pillar of BYBI is around how we can be more sustainable. Some of the thought processes we had back in 2015, such as using unprocessed, raw natural ingredients that do have a low carbon footprint so that they don't have to travel such distances to get to us – even down to food waste, so looking in your fridge and finding a way to use things that are about to go off. We were ahead of the curve in the way we were thinking back then, but the conversations around sustainability just weren't happening as openly then. 
Homethings: Have you always been interested in sustainability? 
BYBI: When we decided to launch a skincare brand in 2017, the ethics were always natural, vegan and cruelty free. We saw the results first hand of creating our own skincare from natural ingredients, so we wanted to make the most efficacious, potent formulas that we could. Animal derivatives do not need to be in our skincare products, they just don't. When you tend to have those ethics, sustainability or the recyclability of packaging just naturally comes into the forefront. From Day 1, we had sugarcane bioplastics, we use glass, etc – the roots of sustainability were always there in our brand, but as we got to understand the supply chain better in beauty, we saw that there was a lot more improvements we could make, from our carbon emissions, the sourcing of our ingredients and the welfare of the people involved in that process. 
Homethings: You have a real transparency around all you do, from manufacturing to packaging to ingredients. Do consumers want to know this information and is it a purchase decision? 

BYBI: The way you communicate sustainability as a brand, in times that are as sensitive as they are, is very tricky. The entire process has been a learning curve for us and we still have a long way to go – we're okay with saying we're not perfect, but we will always do all that we can. We've been doing all of this stuff behind the scenes but a lot of that has been as novices; we've been digging deep into the supply chain and understanding our impact. 
Listen to the full chat over on Spotify, Apple and Acast.
Podcast released: February 4th 2020