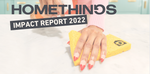 AN IMPACT INTRO
Homethings was born when we realised that household cleaning sprays contain up to 95% water, packaged in single-use plastic. 
The Home Care industry is a behemoth, shipping over 800,000 million gallons of water every year according to Proctor & Gamble. That's billions of plastic bottles and tonnes of heavy water shipped around the world unnecessarily every single year. Bonkers.
Waterless, concentrated, non toxic products simply make sense and ever since we've been bringing our JUST ADD TAP message to the masses and relentlessly going after our mission to change the way the world cleans. 
OUR VALUES
MORE WITH LESS 
TALK FREELY 
SHAKE THINGS UP
JUST HAVE FUN 
OUR TEAM
- We're a small but mighty team of 7, based in Manchester and London
- We strive to make Homethings an amazing place to work with a focus on development, progression, wellbeing and happiness of our team.
- We also strive to support the full team through mentoring opportunities and external organisations relevant to their roles, as well as access to an employee benefits platform
- Equality and diversity in our team is a crucial part of our values as a business.
OUR COMMUNITY
Along with the planet, our customers are our most important stakeholders and the most powerful agents for change that we have. That's why customer service is such a big focus for us at Homethings
In 2022, tens of thousands of shoppers bought our products through our website, Amazon and through our retail partners.
Other community highlights in 2022 included clocking up over 5 Million TikTok views and planting hundreds of trees in the UK through a campaign with Tomorrow's Forests.
OUR PRODUCTS
We apply strict criteria to every single product launch to make sure that it fits with our brand values.
THE NUMBERS
PLASTIC SAVED
In 2022, we saved 37 tonnes of plastic, up from 5 tonnes in 2021. 37 tonnes is the equivalent of 6 buses, 72 polar bears, or 1,644,444 bags of wotsits.
BOTTLES SAVED
In 2022 we hit the milestone of 500,000 bottles saved.
CO2e EMISSIONS
Our products aren't perfect. Although the CO2e emissions are (massively) reduced compared to water based products, our products still create emissions.
We therefore measure our emissions to: CO2e OFFSETS 
Understand our unintended consequences 

See where we can reduce our emissions 

Offset them
Refilling with a tab saves 93 percent of CO2 emissions from being produced, and we've also offset 103 tonnes of CO2 emission so far.
We've also worked to bring carbon labelling to cleaning. You can see this on a lot of our retail packaging, soon to be all. Check it out next time you are in Waitrose
SOME FUTURE THINGS
We have a BIG mission - to change the way the world cleans. To do that, we need to innovate relentlessly to get incredible eco innovations in the hands of shoppers all over the UK and beyond. 
Along the journey we also want to keep improving every single aspect of our business and B Corps people + planet framework is the best way of doing that. And like everything we do at Homethings, we don't want to do B Corp by halves. We're not satisfied with 'Best for the World' status - we want to be the highest scoring in the UK and we have lots to do and no time to waste. 
See you next year for our scorecard!