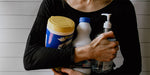 Move Over Hinchers: The Problem with Cleanstagram
Just when you thought you'd escaped all of your distant relatives who were obsessed with posting pictures of their laundry day all over Facebook, the 'Hinchers' movement takes Instagram by storm. It appears that no social platform is safe from humble bragging about stain removal or dazzling dishes.
Whilst, as a cleaning brand, we are obviously thrilled with the enthusiasm people show towards tidying trends, is there a much dirtier side to it all? 

Cleanstagram: The Verdict
There was once a time where the cupboards underneath people's kitchen sinks were unloved; a space purely to chuck, throw and stash away a plethora of plastic bottles. Functional, not fabulous, hidden rather than honoured. Cleaning was a chore, saved for Sunday mornings whilst listening to The Archers (or whenever this historic show was on).
Fast forward to our modern day love affair with cleaning and the rise of the so called Hinchers movement – coined by fans of the wonderful Mrs Hinch and her immaculately clean abode. 
Don't get us wrong, anyone making cleaning trendy is a bit of a legend in our books. Whilst we are happy to throw out likes on every 'tap to clean' post, we'd be foolish not to acknowledge the sharp spike in consumerism this creates.
Our desire to out-do each other with how many cleaning products we can colour code in our (already overflowing) cupboards is a conglomerates dream, but an environmental nightmare. Whether it's 'on Wednesday we clean with pink' or a 'Saturday scrub', the battle for the cleaning crown is fierce – and your armour, trigger sprays and sponges.
These single-use plastic bottles are not only damaging to the environment on a plastic pollution level but are also filled with up to 95% water and only 5% active cleaning ingredients, which is bonkers when you think about it. You might just start questioning how much you really 'like' that Cif inspired birthday cake...
Our diagnosis? It's time to clean up cleaning.
So if you're considering an eco-switch that's not only a more sustainable way to consume but will also help you live your best cleaning life on the 'gram, then we're here for you.
At Homethings, we make household cleaning products that make sense. No single-use plastics. No shipping water. No greenwashing. No faff.
Our refillable cleaning spray kit of 100% recycled plastic bottles and non-toxic, effervescent cleaning tabs are vegan, cruelty-free and smell amazing (your words, not ours). By popping in a concentrated tab to tap water added from home, they dissolve into powerful cleaning solutions that liven up your home and eco credentials, while giving you your cleaning mojo back. When Barb next door sees your shiny new cleaning Things, she's going to be so jealous. Thank heavens we have a referral scheme for her then.
As well as cleaning sprays, much like the trees we plant on your behalf every time one of your friends makes their first purchase, we're branching out into even more products. This includes the UK's first powder-to-gel refillable washing-up liquid, dishwasher tabs with no single-use plastic wrapping, and hypoallergenic laundry pods that are perfect for people with sensitive skin. We're all about being kind to your home, your family + the planet after all.
And on the topic of 'cleanstagram,' while not give us a follow yourselves at @get_homethings. We post about sustainability, refillable cleaning tips + tricks, as well as the odd meme or two...
Photo by Kelly Sikkema on Unsplash