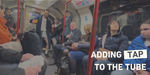 Tube tap dancing. Dressing gown tap dancer. London tube tap dancer. Dressing gown tap dancing. London underground tap dancer. Man tap dancing on tube. Tube man dressing gown. Man tap dancing on London underground. Tapdancing on the tube. Viral man tap dancing. Tiktok tube tapper.
Were you baffled by the tube tapper? It's time we came clean 🫧
Over the past 24 hours, videos of a man in sparkly shorts and a dressing gown cleaning the tube while he tap dances have racked up over 6 million views on social media.
It's been picked up by the likes of Time Out Group plc, Secret London, + MyLondon, and the people of Tiktok have been obsessed with finding out who he is and why 'this man is absolutely everywhere' (real quote).
And they traced it back to us in the end…. 🕵️‍♀️
As part of our TV ad campaign we wanted to take the message of JUST ADD TAP to the masses. Bonkers? Definitely. A success? Absolutely.
Tappidy tap tap.
CLICK THE PHOTO BELOW TO WATCH THE ORIGINAL AD: