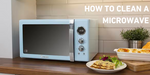 How to clean your microwave.
Howto clean microwave. Clean microwave with lemon. Best way to clean microwave. Clean microwave with vinegar. Clean inside of microwave. Easy way to clean microwave. Clean microwave with lemon juice. Easiest way to clean a microwave.
With the inside of your microwave being an easy spot to ignore (out of sight, out of mind), it can get pretty dirty before you actually decide to tackle it. But when that final bowl of bubbling soup pushes you over the edge, we have the perfect step by step guide on how to get it sparkling again.
STEP ONE: THE TURNTABLE (IF YOUR MICROWAVE HAS ONE)
If your microwave has a turntable inside (the glass plate that spins around) go ahead and remove it. This will make it way easier to reach the bottom of the machine. If the turntable itself is dirty, then wash it in a bowl of soapy water and give it a good wash (we recommend Washupthings: plastic-free, non-toxic washing up liquid - to keep things eco).
STEP TWO: THE WALLS
Grab a damp cloth or sponge and wipe down the walls with a multi-purpose cleaning spray. Our compostable cellulose Spongethings sponges and plastic-free, non-toxic Allthings spray are perfect for the task. If there are any bits of food really stuck on then use a mildly abrasive paste (like baking soda mixed with water) to help loosen them. Make sure not to rub too hard though, as you don't want to scratch up the surface. Give everything a final wipe over with water, and give the floor of the microwave a wipe to remove any bits that have gathered.
STEP THREE: THE DOOR GASKET / SEAL
Once the surfaces are shiny, it's time to tackle the tricky spots. The gasket is the rubber seal that runs along the microwave door (and keeps the heat produced by the microwaves in). It happens to also be a spot where food residue and grease can collect over time. Make sure to give it a good wipe with a damp paper towel or sponge. Baking soda can also be useful here (as can a bit of vinegar diluted with water).
STEP FOUR: THE GLASS
Grease can also build up on the glass door, making it a bit cloudy. We'd recommend a non-toxic glass cleaner (like Shinythings) to get it sparkling again. If the outside of your microwave is chrome, Shinythings can also be used all over to get it gleaming.

STEP FIVE: ENJOY YOUR CLEAN MICROWAVE
Now you can heat up your food without trying to ignore the grease and grime. You're welcome.