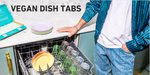 Which dishwasher tabs are vegan?
Which dishwasher tabs are vegan? Vegan dishwasher tablets. Vegan dishwasher tablets UK. Vegetarian dishwasher tablets. Vegan dishwasher detergent. Best vegan dishwasher tablets. Finish dishwasher tablets vegan. Are fairy dishwasher tablets vegan. Are aldi dishwasher tablets vegan. Are tesco dishwasher tablets vegan.
Veganuary has rolled around again, and if you're giving it a go (or are clued-up on the all-things-plant-based) then you'll be familiar with the fact that animal-derived products find their way into the most random products. Looking to check if your dishwasher tabs are vegan? You've come to the right place.
ARE ALL DISHWASHER TABS VEGAN?
All dishwasher tabs contain chemicals called surfactants. These are added to the formula to change the way water reacts with the surfaces it touches, to make it better at removing oil, grease, and dirt. You can get these surfactants from animal or plant-derived fats, and although plant-derived options work a treat (even wood ash oil was used in Egyptian times) some companies are still using oils from tallow (beef fat) or lard (pork fat).
Dishwasher tabs also contain enzymes to help break down food left on your dirty dishes. Like the surfactants, these enzymes can be manufactured in plants (or bacteria in a lab) or can be taken from animals.
WHERE TO BUY VEGAN DISHWASHER TABS?
Luckily for those of us trying to steer clear of animal products, there are tonnes of options out there. 
Our Dishthings are vegan and certified cruelty free. On top of that, they're non toxic (so safe for aquatic life) and single-use plastic free (unlike some other eco brands on the market). And just because they're eco doesn't mean they'll get your dishes any less clean – these pods are effective against tough stains (even at 45 degrees). Why not give them a whirl?!